We really are living our lifelong honeymoon.
Expertise: Why our program may be the best for you
Lifelong Honeymoon: A Journey, Not a Mission to be Accomplished
The mutual respect is still there; we still care for each other; we do want what's best for each other. But we just don't feel the passion for each other anymore. Can you help us?
How do I know that my partner is my soulmate?
How do I get my partner to care, understand, and respect me?
How can we rekindle the lost connection and companionship we enjoyed during the early days of our relationship? As a licensed marriage and family therapist, I get asked these questions on an almost daily basis. It's clear from their questions that the couples who seek my help still very much care for each other and want to spend their life together. But they strongly feel that something is missing in their relationship and they don't know how to get it back.
Thankfully, I do!
Thankfully, I do! After working with hundreds of couples over the years, I have identified and isolated the specific challenges facing nearly all couples. Using my expertise and experience, I have developed a set of core strategies to help couples overcome these challenges and codified them in The Porsha Principles.
The Porsha Principles go beyond solving the difficult problems in relationships. They offer a definitive roadmap for couples to create a mutually fulfilling, uplifting, and deeply intimate relationship full of lasting love and happiness – a lifelong honeymoon. These principles empower you to create your lifelong honeymoon every day, with every choice you make in your relationship. These principles enable you to avoid conflicts, frustration, breakdowns in communications, and loss of intimacy. For once, you will have the tools and resources to overcome and rediscover your soulmate.
The Porsha Principles were born out of our firm belief in God's plan for each of us. Porsha and I strongly believe that God gives each of us a unique purpose in life, instills in us a burning passion to do the work, prepares us our entire lives to be that vessel, and then brings together the resources at the time and place needed to fulfill our purpose. And, if you are reading this, I bet that you believe the same too. When Porsha and I first met, there was something in the way she smiled, and the way we laughed together, and the complete ease and flow of our conversation, that I could sense the specialness we had together. Two days after our second date, I realized she had completely captured my heart. Within 3 months, while on a trip together, I was even surprised when I found myself kissing her and prophesizing aloud, "With this kiss, I thee wed." That day we made a commitment to one another and agreed not to share it with anyone because they would likely think, as we did, that it was way too early for all that! But we knew we found the type of love we wanted to nurture to last a lifetime. Fast forward, as the coronavirus pandemic took hold, we found ourselves sheltered in place working from home, with my office on one end of the condo, and her office on the other end. From time to time, I would pass by her door and happen to overhear one-side of a conversation: the ideas she was sharing through her EarPods with a couple who seemingly were hanging on her every word. And for good reason. I remember saying to her at one point: Of course, this was the facilitator in me wanting to teach the masses, versus the therapist in Porsha who focuses on individuals. In the weeks and months that followed, we began documenting some of her ideas, as well as practicing them ourselves along the way. It didn't take long for us to conclude we were creating more than an ideas list. We realized these were concepts or principles for couples to live by and that these principles could help people keep their love alive and their honeymoon going. And with that, The Porsha Principles were born.
Sweetheart, you are sharing such life-changing jewels with people. You might want to consider writing these things down so that they are documented, and you can easily and consistently share with every couple you work with.
Porsha's ability to work so well with couples in crisis stems from her own personal history. After receiving her Bachelor of Arts degree in psychology from University of California at Berkeley, she married her college sweetheart who became a professional basketball player. Yet her life as a pro sports stay-at-home spouse abruptly ended when her husband suffered a sudden and fatal heart attack. Six months prior, her mother lost her battle with cancer at the age of forty-nine. Left with a six-year-old son, and no source of income or support, Porsha went back to school to pursue her passion in psychology and counseling. She graduated at the top of her class and received her Master of Family Therapy degree from Mercer University School of Medicine in Atlanta and is currently a clinical member of the Georgia Association of Marriage and Family Therapy and the American Association of Marriage and Family Therapy.
Michael is the Managing Director of Leadership Strategies, Inc. – The Facilitation Company, the largest provider of professional facilitators and facilitation training in the U.S. He is considered a national leader in the facilitation industry. Michael is a much sought-after facilitator, trainer, and speaker, both in the U.S. and around the globe. He has completed international assignments in Bangkok, Beijing, Brisbane, Geneva, Glasgow, Hamburg, Helsinki, Hong Kong, Istanbul, Jamaica, London, Melbourne, Milan, Moscow, the Netherlands, Oxford, Saint Petersburg, Saudi Arabia, Singapore, Stockholm, Sydney, Trinidad, Vienna, Warsaw, and Wellington.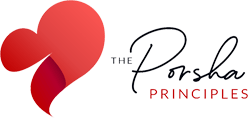 We believe the universality of the Porsha Principles allows our solutions to be used effectively by couples of all ages, races, and orientations.
Grab this definitive guide to rekindling the love, intimacy, and warmth that may be lacking in your relationship.
The Porsha Principles are now available to you in nine illuminating and insightful videos. Access them all today!
Attend our highly engaging and interactive one-day virtual workshop filled with opportunities for you and your partner to practice applying the Porsha Principles to overcome challenges in your relationship and reignite your lifelong honeymoon.
This close and intimate intensive is limited to just twelve couples working up close with Porsha. It's a group learning experience and a mini-vacation to practice the Porsha Principles and revive your lifelong honeymoon – all packed into one.
Take The First Step to Your Lifelong Honeymoon Today With our eBook, Video Series, or Workshops.