Instead of a lifelong honeymoon, too many couples find themselves in a lifelong struggle. It doesn't have to be that way.
What These Principles Can Do
A Loving Relationship, Enriched by the Porsha Principles
The Porsha Principles give you proven and effective strategies for identifying and overcoming the unique challenges in your relationship. You will gain the wisdom and skills to reduce negativity and nurture love and connection with your partner.
Incorporating the Porsha Principles into your relationship leads to greater fulfillment and highly sustained enjoyment for both you and your partner. It creates a safe, joyful, and affirming environment where both of you can be honest, vulnerable, and truly loving with each other.
In short, the Porsha Principles will help you reclaim your honeymoon and sustain it for life.
What Is a Lifelong Honeymoon?
Remember what it felt like when you and your partner went on your honeymoon? The excitement and the sense of joy and connection? Remember wanting this feeling to last forever?
That's what a lifelong honeymoon is.
A lifelong honeymoon is the experience of continual fulfillment and connection created by doing the things every day that lets you and your partner know that you are affirmed, appreciated, and loved.
It is all about living and relating with your partner in a way that continually recreates, reinforces, and restimulates those cherished emotions over and over again, every day, every week, every month. It is living and connecting in a way that breeds sustainable emotional safety and security.
Overview of the Porsha Principles
The Porsha Principles are the product of thousands of hours that I have spent with couples helping them overcome the negativity in their relationships and create lifelong happiness. These eight principles provide the roadmap, but you and your partner have to do the work. It's through applying the principles that you will learn to overcome your unique challenges and create the joy and fulfillment that every relationship deserves.
Let them know you…
not your representative.
Cultivate intimacy…
at deeper levels.
Lift your partner…
every day.
Manage the differences…with care and communication.
Avoid the fire starters…they can ignite a blaze.
Address conflict…resolve disagreements.
Repair the ruptures…they can ruin you.
Profess, protect, and prioritize your relationship…with your thoughts, words, and actions.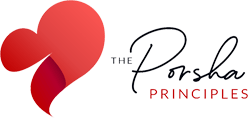 The universality of the Porsha Principles is designed to allow our solutions to be used effectively by couples of all ages, races, and orientations.
Start your journey today. Sign-up for our free webinar!