The most practical and comprehensive guide to building and sustaining a happy, fulfilling, and nurturing relationship.
The Porsha Principles eBook is a definitive handbook for couples of all ages and backgrounds. It communicates Porsha's vast expertise, extensive experience, and sharp insights gained over years of helping couples restore joy and love into their relationships.
Porsha has codified her learnings into eight timeless principles governing every successful relationship. The Porsha Principles eBook offers simple, practical exercises for using these eight principles to magnify and sustain the love in your relationship. Porsha has observed how these strategies have helped countless couples restore the joy, thrill, and excitement from the early days of their relationship. That's her goal: to help couples create and sustain a lifelong honeymoon. Her eBook will show you how.
This book is a 10!!! We are not the targeted audience, but I believe the more experience you have doing something without a guide book makes you appreciate and understand the correction in having one. The Porsha Principles will definitely build confidence for us in resolving conflict! The levels of Disagreement is going to be Frequently Used!
The two of us are approaching our 30th year together. We found most of the chapters to be helpful, and we are already practicing some of the principles. The timeline on 106 is excellent!
I believe The Porsha Principles will resonate with folks, and it provides a map to take real action.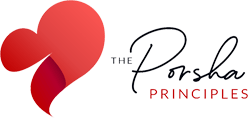 Check Out Our Other Solutions
We believe the universality of the Porsha Principles allows our solutions to be used effectively by couples of all ages, races, and orientations.
The Porsha Principles are now available in nine illuminating and insightful videos. Access them all today!
Attend our highly engaging and interactive one-day virtual workshop filled with opportunities for you and your partner to practice applying the Porsha Principles to overcome challenges in your relationship and reignite your lifelong honeymoon.
This close and intimate intensive is limited to just fifteen couples working up close with Porsha. It's a group learning experience and a mini-vacation to practice the Porsha Principles and revive your lifelong honeymoon – all packed into one.